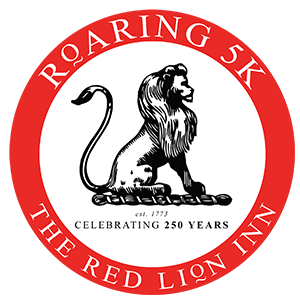 The Red Lion Inn Roaring 5K
Sunday • October 29, 2023
Race Start Time:
9:00 AM
Race group photo on the Red Lion Inn Porch at 8:50AM – Costumes ENCOURAGED!
Registration & Fees:
$35 thru October 27 | $40 October 28 & 29 (day of race)
There is an online processing fee. NO REFUNDS/DEFERMENTS
Day of registration in the Red Lion Inn from 7:00AM-8:30AM.
Race Course:

The event will start at the Red Lion Inn and the course will bring runners through the grounds of Naumkaeg on the last day of the Pumpkin Show!
Course Map
Directions / Parking
The Roaring 5K starts at The Red Lion Inn, 30 Main St, Stockbridge, MA 01262. Park on Main Street, Town Hall or at the overflow parking lot on Pine Street.
Bib and Race Shirt Pick-Up
Berkshire Running Center
5 Cheshire Rd Suite 119
Pittsfield, MA 01201
Saturday, October 28 from 12:00 pm-4:00 pm
Day of race registration and bib pick up will be in the Red Lion Inn from 7:00AM-8:30AM.
Shirts are guaranteed for the first 300 runners. (sizes are not guaranteed)
Race Perks:
Post-race beverages and an oatmeal bar for registered runners/walkers in the Red Lion Inn Courtyard following the run.
All proceeds from raffle will go to the Community Access to the Arts! Prizes from Berkshire Running Center, Township Four, The Red Lion Inn, Naumkeag, CATA original artwork and much more!
Prizes:
Prizes will be awarded at 10:30AM for overall top 3 male and female finishers and for top finishers in each age category  (0-19, 20-29, 30-39, 40-49, 50-59, 60-69, 70+)
* Overall winners will get 2 tickets to the Winter Lights Show and each division winner will receive 1 ticket to the Winter Lights Show!
CATA Raffle
Tickets are available at Berkshire Running Center, on Venmo @berkshirerunningcenter and on the day of at the event. Over $2200 worth of prizes to win!
Raffles will be drawn at 11:00AM.
You do not need to be present to win.
Celebrating their 250th anniversary, the Red Lion Inn will be working with Berkshire Running Foundation and Naumkaeg to offer this event to benefit the great work at CATA – Community Access to the Arts. This organization nurtures and celebrates the creativity of people with disabilities through the arts.