MountainOne Steel Rail Races
Sunday • May 19, 2024
* ONLINE REGISTRATION IS OPEN! *
Race Start Times:
7:30 AM for the Marathon
8:00 AM for the Half
8:30 AM for the 8K
Registration Fees:
$95 (26.2)/$75 (Half)/$50 (8K) by January 1st, 2024
$100(26.2)/$80.00 (Half)/$55.00 (8K) from January 1st  thru April 14th, 2024
$105 (26.2)/$85.00 (Half)/$60.00 (8K) from April 15th thru May 18th, 2024
There is an online processing fee. NO REFUNDS/DEFERMENTS
Race Courses:

All three race routes are out and back courses on the Ashuwillticook Rail Trail and all three races start and finish at the Crane Ave trail head.
View Map
Race Perks:
Technical short sleeve shirt to all runners.
Finisher medal.
One FREE Steel Rail Pale Ale from Berkshire Brewing Company at the race finish. (must have ID and be 21+)
One food ticket ($3) value for food vendors at the finish party, in addition to standard post race fuel provided by the SRHM.
Music at the finish line.
Raffle and much more!
Prizes:
Prizes will be awarded for overall top 3 male and female in each race, and for top finishers in each age category  (0-12, 13-19, 20-29, 30-39, 40-49, 50-59, 60-69, 70+)
Course Certificate
View the USATF Course Certificate here.
Directions / Parking / Shuttles / Baggage
The Marathon, Half Marathon and 8K all start and finish at the end of the Ashuwillticook Rail Trail, 850 Crane Ave, Pittsfield, MA. Parking is available at the Allendale Shopping Center, located 500 yards from the start/finish.
PLEASE PARK IN DESIGNATED AREA ONLY
AS OTHER BUSINESSES ARE OPEN DURING THE EVENT AND WE DO NOT WANT TO USE THEIR VALUABLE SPACES.
Packet Pick Up
Berkshire Running Center
5 Cheshire Rd Suite 119
Pittsfield, MA 01201
Friday, May 17 – from 9:00 am-4:00 pm
Saturday, May 18 – from 9:00 am-4:00 pm – Plus the Mo Mile Kids Run starts at 9am
Sunday, May 19 – from 6:00 am-7:30 am at Berkshire Running Center
Race Day Deals
Runners will receive an additional 10% off their purchase at BRC with their race bib on May 17 & May 18.
Course Time Limits
The time limits on the course are set to comply with the road closures. Our permits allow us to have the road closure for 6 hours from the marathon start. Support on the course and the clocks will end promptly at 1:00pm for all participants.
Headphones, Strollers, Wheelchairs/Dogs
The Ashuwillticook Rail Trail is not closed to the public during this event.
Runners MUST be aware that there will be others on the trail, cyclists, skaters, etc.
Headphone are potentially hazardous on a bike path as you are limiting your ability to be aware of what is around you, course marshals, bikes, and other traffic. For reasons stated we discourage the wearing of headphones.
Wheelchairs and other disabled push strollers are welcomed. To help accommodate your needs, please contact us and let us know you are coming and we can help with any accommodations you require.
Please. Baby strollers are not allowed.
Please. Dogs are not allowed.
Toilets and Water Stops
There will be porta-potties at the start of each races as well as the state restrooms at the trail start and Farnum's Crossing. There will be water stops at Miles 2, 4, 6, 8, 10, 12, 14, 16, 18, 20, 22, 24 with Gu Brew from miles 6-24.
Please Share with your Spectators
The best place to watch and cheer your runners is at the many road crossings along the course. The course map can be found here: Course Map
The most ideal spot to see your runner will be at the closed lots of the first entrance to the Berkshire Mall on Rt 8. This is ideal for a long look at your runner, a perfect photo op. Once you see them you will have ample time to get to the car and drive to the finish line. Due to the limited accessibility to the trail and in order to provide the runners with the most safe experience, spectators will be strongly discouraged from going onto the trail between Crane Ave and the finish line.
SPECATATORS WILL NOT BE ABLE TO CROSS THE FINISH LINE AND ENTER THE CHUTE AND FOLLOW YOUR RUNNER
Please kindly understand this will be strongly enforced. To ensure you can get to your runner after they cross the line, you would be best to be on the Crane Avenue side of the finish line.
Can I switch events?
Yes, you may switch your event no later than May 17th – if there is space available in the desired event. Once race packets are created, there will be no changes made. There will be no refund for race changes, you will be charged the difference if you choose a longer event.
Awards Ceremony
The awards ceremony will take place at 12:00 pm sharp. YOU MUST BE PRESENT TO WIN ANY RAFFLES.
Refunds
No refunds under any circumstances, including event cancellation or postponement.
Events are planned and paid for months in advance of the actual date. IF our event is canceled or postponed because of weather, pandemics, or other forces beyond our control, we won't be able to provide refunds. In these rare situations, we'll convert the race to a virtual one and mail you your full race goodie bag.
Due to regulations changes may be made to the course or race details for the safety of our participants and staff. Any changes will be communicated prior to the event via email, on our social media platforms, and on our website.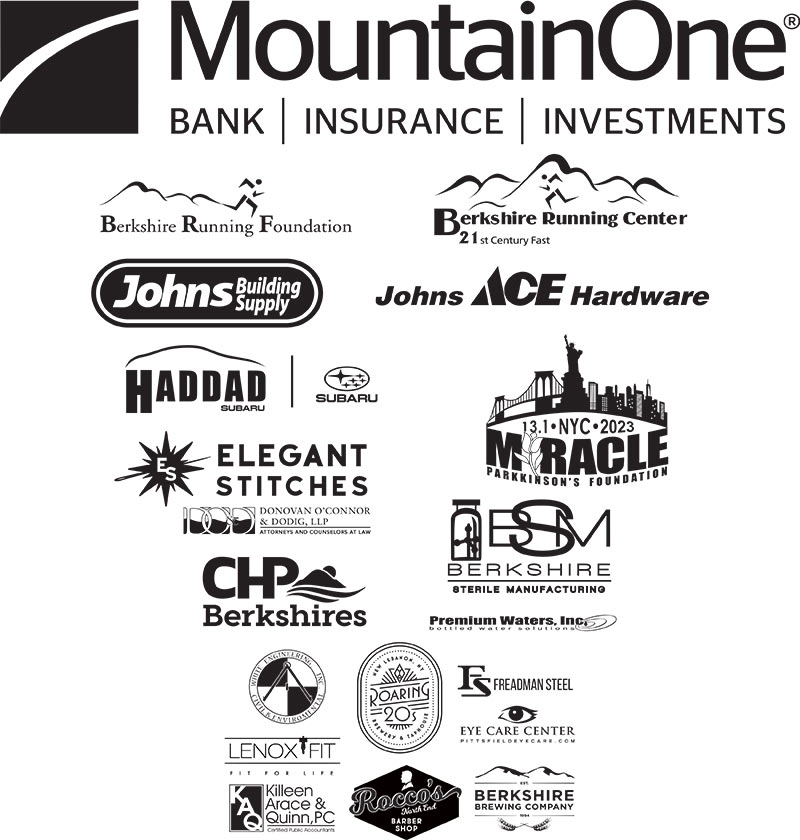 DESCRIPTION
In May, the MountainOne Steel Rail Races are held on the DCR's Ashuwillticook Rail Trail. The proceeds from this ever-growing, sold-out event is earmarked for the first-ever municipal fund established for the City of Pittsfield by Berkshire Running Foundation. The goal is to maintain and aid with future expansion of the rail trail ensuring this valuable, recreational resource serves Berkshire county and its residents for years to come.
Thanks to our generous Sponsors and participants, to date we have donated over $62,000 to be used for maintenance and repair of the Ashuwillticook Rail Trail!